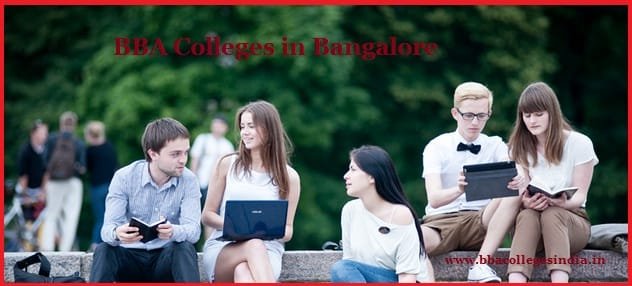 BBA Bachelor of Business Administration BBA is a three year degree course also known as Bachelors Degree Programme which is designed to impart fundamentals of management education and inculcate entrepreneurship in colleges in Bangalore.
Bangalore BBA colleges covers
Business analysis skills
Quantitative reasoning
Communication
Marketing
Management
the program makes students aware of global issues, and also imparts knowledge on business processes and practices, and an understanding of the role of economics in the global market. Apart from the above, there are several other topics covered.
BBA Admission in Bangalore Best Colleges by Top Bangalore Universities
These include
Consumer behavior
Human resource management
Budget development
Project management
E-business
Entrepreneurship fundamentals
Economics
Business law and ethics
Business theory.
Admission in BBA Bangalore Minimum Requirement for Students seeking admission to BBA Bachelor of Business Administration courses in Bangalore. Class XII examination from a recognize board or university. Though the minimum eligibility percentage could vary from college to college. Those who have appear in class XII examination and await results are also eligible to apply in BBA colleges Bangalore. Most Best BBA colleges in Bangalore hold an entrance examination for conducting admission, often followed by interview and group discussion rounds.
BBA colleges Bangalore offer specializations in  BBA Course
Human resources
Marketing
International Business
Information Technology
Finance
as per the students choice and interest . Bangalore also provides Placements to students who do not want to persue further education.
Students Seeking admission in BBA colleges in Bangalore can either finance their fees themselves or even apply for bank loan for financing their fees as BBA colleges in Bangalore have tie up for loans with multinational bank and national banks for helping students getting their education fund at nominal rate of interests.
BBA Admission in Bangalore Best Colleges Under Top Bangalore Universities
Alphabetical Listing of Undergrad course Admission in Best BBA Colleges in Bangalore Under Bangalore University.
list of Govt BBA colleges Bangalore for BBA Admission in Bangalore
Govt. BBA Colleges Name

Estd.
Address
PinCode
Dr. S. Gopalaraju Govt. First Grade College College
1980
Anekal
562106
Govt. Arts College
1928
Govt. Arts College, K.R. Circle
NA
Government First Grade College
2007
Govt. Tamil School Annex, Cox Town, Frazer Town Post
560005
GFGC Government First Grade College
2007
24th Main Road, 1st Cross, 1st Sector, HSR Agara
560102
Government First Grade College
2007
Government First Grade College, Yedur, 6th Block, Jayanagar
560082
Govt. First Grade College
1991
Govt. First Grade College, K.R. Puram
560036
Govt. First Grade College
2009
Govt. First Grade College, Kadugudi
560067
Government First Grade College
2007
Government First Grade College, Govt. High School, Building, Kengeri Statelite Town, Kengeri
560060
Government First Grade College
2007
Government First Grade College, Govt. PU College Annex, 18th Cross, Malleswaram
560003
Government First Grade College
2007
Government First Grade College, Govt. Junior College Annex, Peenya
560058
Government First Grade College
2007
Government First Grade College, Govt. Middle & Higher School Annex, 2nd Block, Rajajinagar
560010
Govt. First Grade College
2009
Govt. First Grade College, Varthur
560087
Government First Grade College
1985
Government First Grade College, No.5, 3rd Main, 7th Cross, RPC Layout, Vijayanagar
560040
Government First Grade College
2007
Government First Grade College, Govt. Middle School Annex, Near NES Office, Yelahanka
560064
Govt. R.C. College of Commerce & Management
1948
Govt. R.C. College of Commerce & Management, Racecourse Road
560001
Govt. First Grade College
1984

Devanahalli
Doddaballapura

Govt-First Grade College

Hesaragatta
Hoskote Bangalore
BBA Colleges Bangalore Affiliated To Bangalore University
Private BBA Colleges Bangalore Colleges Name
Estd.
Address
PinCode

List of Bangalore BBA Colleges 1945-1987

Vijaya College
1945
Vijaya College, RV Road
560004
SJRC College of Science
1945
Arts and Commerce, Race Course Road
560009
Acharya Patashala College of Commerce
1956
N.R. Colony
560019
K.L.E Society S. Nijalingappa College
1963
Rajajinagar
560010
B.M.S. College for Women
1964
Bugel Rock Road, Basvanagudi
560004
BES College
1972
 16th Main Road,4th Block, Jayanagar
560011
Seshadripuram Arts
1973
Seshadripuram
560020
Hasnath College for Women
1973
43, Dickenson Road
560042
Baghirathi Bai Narayana Rao Mane Degree College
1974
Banashanakari IInd Stage
560070
Abbas Khan Degree College for Women
1977
Durga Complex, OTC Road, Cubban Pet
560002
Dayananda Sagar College of Arts
1978
Shavige Malleswara Hills, Kumara Swamy Layout
560078
Basaveshwara College of Commerce
1982
2nd Block, Rajajinagar
560010
SSMRV College
1982
No.17, 26th Main, 36th Cross, Jayanagar, 4th T Block
560041
RBANMS First Grade College
1983
#12, Annaswamy mudliar road
560042
Hasnath College
1984
No.8/3, Byraveshwara Layout, Hennur Bande, Kalayanagar
560043
HKES Sri Veerendrapatil Degree College of Science
1984
11th main, 11th Cross, Sadashivanagar
NA
Bishop Cotton Womens Christian College
1987
Field Marshal Kariyappa Road
560025
List of Bangalore BBA Colleges 1990
BBA Colleges Bangalore Name
Address
PinCode
SJR College for Women
#1/D 59th C Cross, 4th M block, Rajajinagar
560010
Sri Mangilal Sundar Bai Gotawat Jain Arts and Commerce Degree College
# 17- C Croos, Chinmaya Mission Road, Indiranagar IInd stage
560038

List of Bangalore BBA Colleges 1992

Hindustan Business School

Chennappanahalli, No.24, K.R. Puram
560016
Seshadhripuram First Grade College
Yelahanka New Town
560064
NRI Institute
No.6 Papareddypalya, Nagarabhavi 2nd Stage
560072

List of Bangalore BBA Colleges 1993

Rajajinagar Parents Association First Grade College
CA-2, 5th Block, Rajajinagar
560010
United Mission Degree College
Mission Road
560027
Administrative Management College
18th Km. Bannerghatta Road
560083
T. John College
No.80/1, Gottigere Post, Bannergatta Road
560083
Brindavan College
2nd Cross, RMV Ext, Bhoopsandra II stage
560094

List of Bangalore BBA Colleges 1994

CNK Reddy College of Busienss Management
193, Double Road, II stage, Indiranagar
560038
Garden City College of Science and Management Studies
No.9, Dooravani Nagar
560049
S.J.E.S College of Mangament Studies
Medahalli, Old Madras Road
560049
MS Ramaiah College of Arts
M.S. Ramaih Nagar, M.S.R.I.T Post
560054
AIMS Institute of Higher Education
Ist Stage, Peenya Industrial Estate
560058

Indian Academy Degree College

Hennur Cross, St. Thomas Town
560084
The Oxford College of Business Management
No.32, 19th Main Road, 17th B Cross, Sector-4, HSR Layout
560102

List of Bangalore BBA Colleges 1995

Surana College
No. 16,South End Circle
560004
Sitadevi Ratan Chand Nahar Adarsh College
75, Devathachar Street, 5th main Chamarjpet
560018
Vidhya Vahini First Grade College
Vidhya Vahini First Grade College, Anandanagar, R.T Nagar
560024
Baldwin Methodist College
No.14 Hosur Road, Richmond Town
560025
Baldwin Women's Methodist College
No.90,Richmond Road
560025
Anne's First Grade College for Women
#4, Millers Road
560052

List of Bangalore BBA Colleges 1996

S.L.N College of Arts and Commerce
Fort Road
560002
V.E.T First Grade College
14th Main Road, 2nd Stage, J.P. Nagar
560078
Sri Aurbindo First Grade College for Women
No.8, 5th Main, IInd Stage, Mahalakshmipuram
560086

List of BBA Colleges Bangalore 1997

B.E.T College of Management and Science
Dodda Banasawadi
560043
Sri Cauvery Management College
CA No.5, Near KEB Office, Kodihalli, HAL 2nd Stage
560008
Goutham College of Science
No.258, 5th Main, 2nd Cross, Manjunathanagar
560010
Vijaya College
11th Main, 4th Block, Jayanagar
560011
Lowry Memorial Degree College
No 1603, Dooravani Nagar
560016
Bharatha Matha College for Women
Hanumanthanagara
560019
BET Sadathunnisa Degree College
Bismillah Nagar, Bannerghatta Road, Jayanagar
560029
St George College of Management & Science
Banasawavdi, OMBR Layout
560033
The East Point College of Higher Education
No.147, Bidarahalli, Virgonagar Post
560049
New Horizon College
No.41, Kadubisanahalli, Marathalli Ring Road
560087

HKBK Degree College

No.6/1, Contonment Station Road
NA

BBA Colleges Bangalore 1999

Dr. Ambedkar Institute of Management Studies
HAL, IInd Stage, Indiranagar
560038
SSR College of Science & Commerce
#11, 60 Feet Road, Amarjyothi Nagar, Vijayanagar Extension
560040
Goodwill Christain College for Women
10, Frazer Town
560051
Sri Venkateshwara First Grade College
#1/18, 8th Cross, Maruthinagar
560068
City College
27/2, 33rd Cross, 2nd Main Road, 7th block, Jayanagar
560082
Sambram Academy of Management Studies
Near Amba Bhavani Temple, Jyothinagar, Vidhyaranyapura post
560097
Global Institute of Management Sciences
No.6, Devadiga Saudha, 3rd Cross, Ideal Township, Rajarajeshwari Nagar
560098
Aditya Institute of Management Studies and Research
No.12, Kogilu Main Road, Behind Annapoorneshwari Temple, Yelahanka Bangalore
NA

List of Bangalore BBA Colleges 2000

C.B. Bandari Jain College
84 K.R Road, Shankar Puram
560004
Presidency College
No.33-2C, 33-2D, Kempapuara Hebbal
560024
Bangalore City College
No.116, Chelikere Main Road, Banasawadi, Outer Ring Road, Kalayananagar Post
560043
Padmashree Institute of Management & Science
Kommagatta Villege, Kengeri Hobli
560060
Don Bosco College of Science and Management
1A & 10, Bommahalii Hosur Main Road
560068
R.S. College of Management And Science
No.43(1), Doddajala Bangalore North.
NA

List of Bangalore BBA Colleges 2001

S.E.A College of Science
Ekta Nagar, Basavanapura, Virgonagar Post
560049
Acharyas Bangalore B School
No.3, Lingadeeranahalli
560091

List of Bangalore BBA Colleges 2002

Sir M.Vishveshwaraiah First Grade College for Women
Konenaagrahara, Old Airport Road
560017
Reva Institute of Science & Management
No.227, Kattigenahalli, Jala Hobli, Yelahanka
560064
Sindhi College of Commerce
No.33/2 B, Kempaprua Hebbal
560064

List of Bangalore BBA Colleges 2004

MES Instiute of Management
17th Main, 2nd Block, Rajajinagar
560010
AET College
Doddakannelli Village, Carmelaram Post
560035
MET Academy of Management Science
No.1/4, Ittina Apartments, Balaji Layout, 4th Main, Hongasandra, Bommanahalli
560068
Sacred Hearts Girls First Grade College
Jeevanbheemanagar
560075
T John Institute of Management and Science
Banerghatta Road
560083
St Francis D Sales College
Mermier Nagar, Huskur Gate, Electronic City Post
560100

List of Bangalore BBA Colleges 2005

St Anne's Degree College for Women
No.2, Cambridge Road, Halasuru
560008
Rajajinagar First Grade College of Commerce
10th Main, 5th Block, Rajajingar
560010
Claret College
MES Road, 5th Cross, 1st Main, Sharadambangar
560013
Seshadripuram Institute of Commerce & Management
Seshadripuram, No.40, Girls School Road
560020
Ramanashree Academy of Management
No.14, 10th Cross, 18th Main, MC Layout Vijanagar
560040
Kamala College of Management Studies
No.453, OTC Road, Cottonpet
560053
Bangalore Institute of Management Studies
Opp.RVCE, Mysore Road
560060
Seshadripuram Academy of Business Studies
No.18, Kommagatta Road, Kengeri New Town
560060
Sharada Vikas Institute of Mgmt. Studies
#324/645, Garebhavi Palya, Begur Hobli, Hongasandra Main Road, Pillar No.50, Hosur Main Road
560068
MEWA Degree College
No.128, 38th Cross, East End Road, 9th Block, Jayangar
560069
Swamy Vivekananda Rural First Grade College
Chandapura, Anekal Taluk
560081

Gupta College

No.808, 100 ft Ring Road, BSK 3rd Stage
560085
Acharya Institute of Graduate Studies
No.80-90, Soladevanahalli, Chikkabanavara Post
560090

List of Bangalore BBA Colleges 2006

MLA Academy of Higher Learning
14th Cross, Malleswaram
560003
Bapu Degree College
No.500/A/32, 6th Main Road, Gokula 1st Stage, 4th Phase, Yeshwanthapura
560022
S.V.R. College of Commerce & Management Studies
No.20/1, Samasandra Palya, HSR Sector-2
560034
Krupanidhi First Grade College
No.12, Chikkabellandur, Carmelara Post, Varthoor Hobli
560044
Al-Mighty First Grade College
No.23, Opp. Arabic College, Nagavara Main Raod
560045
Sidvin School of Business Management
No.24, 100ft Ring Road, BSK 3rd Stage
560060
Karnataka College of Management & Science
No.33/2, Tirumenahalli, Hegadenagar Main Road, Jakkur Post, Yelahanka Hobli
560064
Noble School of Business
12/A/19, 9th Cross, Rajashekar Hospital, J.P. Nagar I Phase
560078
Bangalore Management College
No.76, NN Forum Road, Sanjayanagar
560094
Jnana jyothi Degree College
CA 23, 3rd Cross, Yelahanka New Town
NA
Vasavi Jnanapeeta First Grade College
No.10, 2nd Main, Vijayanagar
NA

List of Bangalore BBA Colleges 2007

Faith British Academy
Ramachandrapura, Jalahalli (PO)
560013
M.N. Degree College
Kammagondanahalli
560015
Silicon City College
Ravindra Layout, #35, 41 &42/26-/2 KR Puram, Basavanapura Road
560036
Sri Venkateshwara College of Science & Management Studies
K.R. Puram
560036
Indo Asian Academy Degree College
No.10, 4th D Main HRBR Layout, 2nd Block, Kalayanagar
560043
Smt. Mehra's College of Management Studies
# 132/1 PNT Layout, 5th Cross, Horamavu Post
560043
MQI Degree College
#8, Bore Bank Road, Benson Town
560046
Sri. Sai Sathyanarayana College
No.228, Mandur Post, Virgonagar
560049
INIMS College
No.123, I Main Road, Kengeri Sattelite Town
560060
S.B. College of Management Studies
No.293, Chikkabommasandra Cross, 1st A Main Road, Yelahanka New Town
560064
Soundarya Institute of Management & Science
Soundarya Nagara, Seededahalli, Nagasandra Post
560073
Sri Krishna Degree College
#2(P), ITI Colony, Katraguppa Mian Road, BSK 3rd Stage
560085
RR Institute of Management Studies
#67, Chikkabanavara
560090
Oxbridge Business School
No.8 & 9 Mahadeshwaranagar, Vishvaneedum Post, Herohalli Cross
560091
Koshys Institute of Management Studies
No.31/1, Hennur-Bagalur Road, Kadusonnappana Halli
562149
Columbia College
#6, Guruvanagar, Kothanur Dinne Main Road, JP Nagar 7th Phase
NA
East Point College of Management
#2, 80ft Road, HRBR Layout, Kalayanagar
NA
Pushpagiri College of Management & Sciences
Mahantheswara Layout, Kachohalli, Laxmipura, Bangalore North.
NA
Smt. Nalini Raghunath Rao Degree College
Jigani, Anekal Taluk
NA

List of Bangalore BBA Colleges 2008

St Aloysius Degree College
PU Campus, Cox Town
560005
RJS Institute of Management Studies
16th Main road, 3rd Block, Koramangala
560034
New Horizon College
Kasturinagar, NGEF Layout
560043
Panchajanya Vidhya Peetha Degree College
#42, Ring Road, Mallathhalli
560056
Federal College of Management
No.54-58, Uttarahalli Main Raod, Uttarahalli
560061
FAS First Grade College
Hegde Nagar Main Road, Chokkanahalli
560064
Sri Sadguru Sainath Degree College
No.165, Koodlu village, Madivala Post
560068

Florence Degree College

No.60/15, Huskur Main Road, Near Fruit Market, Electronic City
560100
ISBR College
No.107, Electronic City 1st Phase
560100
Patel Institute of Science & Management
No.25/2, Kariyammana Agrala, Belandur PO, Opp intel, Outer Ring Road
560103
Sree Omkar College of Commerce & Management
#67, Opp to Country Club, Sathanur, Bagalur Road, Jala Hobli
562149
SSR College of Science & Management Studies
No.25/4, Kylasanahalli, KR Puram Hobli
NA

List of Bangalore BBA Colleges 2009

Community Institute of Commerce & Management Studies
#2 Block, Jayangar
560011
International Institute of Business Studies
No.70, Sujatha Complex, KHB Main Road, RT Nagar
560032
Williams International College
#163, I Mian road, Bhuvaneshwarinagar, Sultanpalya
560032
ASC Degree College
#3/10, Old No.A-3, 1st Main Road, 6th Block, Rajajinagar Industrial Area
560044
Bishop Cotton Academy of Professional Management
23/C Sector A, Yelahanka New Town
560064
Lorven International Institute of Management Studies
No.62/8A, Kodichikkanahalli Main Road, Bommanahalli
560068
KLE Society's Degree College
2nd Stage, 3rd Block, Next to BDA Complex, Nagarabhavi
560072
International Academy of Management & Entrepreneurship
#152/2, Nisarga Campus, Behind the Art of Living, off Kanakapura Road, Udayapura Post
560082

IFIM College

# 8 P & 9P, KIADB Industrial Area, Electronic City, I Phase
560100
Sha-Shib College
#38-39, Prestige Enclave, Bettahalsur Cross, BB Road
562157

Dayananda Sagar Business Academy

Udayapura, BM Kaval, Kanakapura Road, Near Art of Living
NA

List of BBA colleges Bangalore 2010

GRV Business Management Academy

#19, 2nd Cross, Ganganagar, Bellary Road
560032
SJB College of Management Studies
#67, BGS Health & Education City, Kengeri
560060
ITM-Business School
ITM Campus behind Meenakshi Temple, Bannerghatta Road, Hulimavu
560076
Ebenezer College
 No.19, Ebenaer Nagar, Kotthanur Post
560077
DBA Degree College
No.551, 9th Cross, 2nd Main Road, JP Nagar, 3rd Phaes
560078
Quality College of Management Studies & Science
No.4/5, PP Layout, Uttarahalli Kengeri MainRoad, Subramanyapura Post
560560
Kaveri First Grade College
Muttukatte Dinne Cross, Kempu-dommasandra Road, Samandur Post, , Anekal Taluk
562106
Spurthy College of Science & Management Studies
#328, Marasur Gate, Anekal Main Road, Marasur Post, Anekal Taluk,
562106
Vishwa Chethana Degree College
No.36, Rajarajeshwari Layout, I Main, 4th cross, Sammandour, Anekal Kasaba Village, Anekal.
NA

List of Bangalore BBA Colleges 2011

Amaravathy School of Business
#642/35/33, 2nd Floor, 11th Main, 5th Block, Jayanagar
560011
Reva Institute of Management Studies
#11th Cross, HAF Post, Near CBI Office, Ganganagar
560024
Hopkin's College
#53/1, Subbanna Garden, Bannerghatta Road Cross, Adugodi
560027
BMA College of Arts
No.29/3, Siddareddy Layout, Outerring Road, Doddanekkundi Cross
560037
SRUSHTI College
#92, Karthik Nagar, Marathahalli Outer Ring Road
560037
ST – Theresa Institute of Management Studies
No.28/29, Hesarugatta Raod, T. Dasarahalli, Mallasandra
560057
Brite Institute of Management & Science
#69, BWSSB Colony, Pipeline Road, Vishwaneedum Post, Chikkagollarahatti, Magadi Road
560091
Reva First Grade College
No.7, New BEL Road, 1st Main Road, Geddalahalli, BBM Ward No.18, Sanjayanagar
560094
P.E.S. Degree College (Bangalore South Campus)
Hosur Road, Electronic City
560100

List of Bangalore BBA Colleges 2012

St Vincent Pallotti College
Pallotti Nilaya, P.B. 4321, Ehelikere Village, kalyanagar Post
560043
Vivekananda Institute of Management
Dr.Rajkumar Road, Rajajinagar II stage
560055
Akash International Business Management
#198, Malathalli New Extn., Kengunte Circle
560056
SIET College
#306, I Cross, Sapthagiri Residency, Bagegowda Layout, Muthurayanagar, Mysore Road, R.V. College Post
560059
R.N. Shetty First Grade College
Channasandra, Uttarahalli, Kenteri MainRoad
560061
Nagarjuna Degree College #38/1
#38/1, Ramagondanahalli, Yelahanka
560064
Westline College of Commerece Management & Science
Hegdenagar, Bellahalli Road, Thirumenahalli, Yelahanka Post
560064

List of BBA colleges Bangalore 2013

Kensri College
#1348/444A (Old #:18/2A), Mariya Street, Mariyannapalya, HA Farm PO
560026
Indo Asian Women's Degree College
#51, Outer Ring Road, Next To Kalyananagar Bus Depot, Kayananagar
560043
Teachers Academy Degree College
#198/1, HBR Layot, Hennur Main Road
560043
Green City Degree College
Green City Degree College, #5, Noor Building, RMV 2nd Stage, Bhoopasandra Main Road
560094
Nobel Institute of Business Excellence
#44/2, Bertena Agrahaara, Hosur Main Road
560100
Faran College of Management
#16&P29, Kannur Village & Post, Bagalur Main Raod
562149

List of Bangalore BBA Colleges Bangalore 2014

Christian Institute of Management
#150/6, Horamavu agara, Hennur Main Road
560043
M.G.P. College
41/P2, Kanminike, Kengeri, Mysore Road
560074
The Bangalore Social & Educational Institute of Management Studies
#4, 60ft Road, Balarama Layout, Near Krisha Garden, RR Nagar
560098

List of Bangalore BBA Colleges 2015

D.S.S. Degree College
#6, 2nd Main, Hanumanthapura, Sevashrama
560021
CNK Institute of Business Management
#12, Cholanayakanahalli, Muneshwara Block, Hebbal, R.T. Nagar Post
560032
Asia Pacific College of Commerce & Management
#9, Koramangala 1st Block, Jakkasandra Extn., Sarjapur Main Road
560034
Lohit's Academy of Commerce
Janani Arcade Opp. to Bharath Petrol Bunk, Horamavu, Kalkere Main Road
560043
Rajadhani College
Plot No.8, ITI Industrial Estate, Mahadevapura Post, White Filed Main Road, Next to Phonix City Mall
560048
Ramaiah Institute of Business Studies
Ramaiah Institute of Business Studies, #15, New BEL Road
560054
Sri Lakshmi College of Management & Science
#4&5 Sri Gandada Kaval, Magadi Main Road, Viswaneedam Post, Sunkadakatte
560091
Sri Sai Ram Degree College
#36, Somasandra Palya, Near DHL Officer, HSR Layout, 2nd Sector
560102

List of Bangalore BBA Colleges Bangalore 2016

Charan's Degree College
No.326, 1st Main Road, Cambridge Layout, Halasuru
560008
US Business School
#415, 4th Main, 3rd Block, HRBR Layout, Kammanahalli Main Road
560043
Christ Academy Institute for Advanced Studies
Christ Nagar, Hullahalli, Begur-Koppa road, Sakkalwara Post
560060
Sadhana Degree College
CA Site No.1, Happy Valley Layout, HBCS, Banashakri 5th Stage, Uttarahalli
560061
Gurukul Education and Management Studies
No.22/11, Sidedhalli, Hesargatta main Road
560073
St Paul's College
#E-1, Nelagadaranahally, Nagasandra PO
560073
SET Degree College
No.11/2, Magadi Main Road, Agrahara Dasarahalli
560079
Khyathi Degree College for Women
128/1, Sante Circle, Chintamani Road, Hoskote
NA