Osmania University is a collegiate public state university located in Hyderabad, Telangana, India. The university was founded by and named after Mir Osman Ali Khan, the 7th Nizam of Hyderabad in 1918.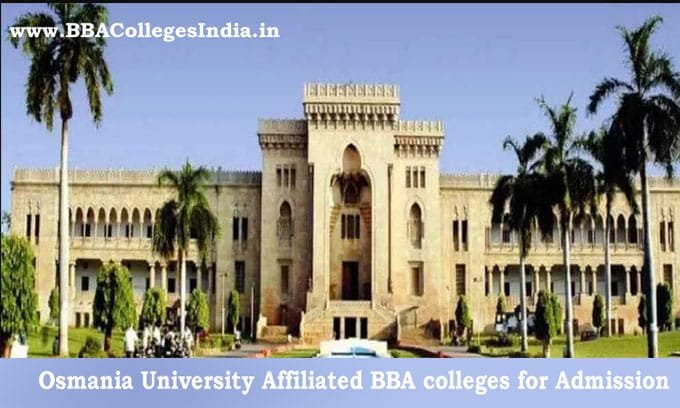 Osmania University under BBA Colleges in Dubbak
Check Details at OU Under Colleges for BBA in Dubbak, Telangana contact.
| | | | |
| --- | --- | --- | --- |
| S. No. | BBA Colleges in Dubbak under OU university | Telangana | Contact |
| 1 | Govt. Degree College | Dubbak | gdcdubbak@rediffmail.com |
Osmania University under BBA Colleges in Guntur
Check Details at OU Under Colleges for BBA in Guntur, Telangana Phone
| | | | |
| --- | --- | --- | --- |
| S. No. | BBA Colleges in Guntur under OU university | Telangana | Phone |
| 1 | St.Anne's Degree College for Women | Gorantla | 0863 223 6470 |
Osmania University under BBA Colleges in Himayatnagar
Check Details at OU Under Colleges for BBA in Himayatnagar, Hyderabad Phone
| | | | |
| --- | --- | --- | --- |
| S. No. | BBA Colleges in Himayatnagar under OU university | Hyderabad | Phone |
| 1 | Rishi Junior & Degree College | Himayatnagar | 040 2322 7682 |
| 2 | Vishwa Vishwani Institute of Systems & Management | Himayatnagar | 098494 64333 |
Osmania University under BBA Colleges in Kachiguda
Check Details at OU Under Colleges for BBA in Kachiguda, Hyderabad Phone
| | | | |
| --- | --- | --- | --- |
| S. No. | BBA Colleges in Kachiguda under OU university | Hyderabad | Phone |
| 1 | Badruka College Of Commerce And Arts | Kachiguda | 040 2473 2832 |
| 2 | RG Kedia College of Commerce | Kachiguda | 040 2473 8939 |
Osmania University under BBA Colleges in Hyderguda
Check Details at OU Under Colleges for BBA in Hyderguda, Telangana Phone
| | | | |
| --- | --- | --- | --- |
| S. No. | BBA Colleges in Hyderguda under OU university | Hyderguda | Phone |
| 1 | Jagruthi Degree College | King Koti | 040 2475 1451 |
Osmania University under BBA Colleges in Machilipatnam
Check Details at OU Under Colleges for BBA in Machilipatnam, Telangana Phone
| | | | |
| --- | --- | --- | --- |
| S. No. | BBA Colleges in Machilipatnam under OU university | Telangana | Phone |
| 1 | SSR Degree College | Jaganadha Puram | N.A |
Osmania University under BBA Colleges in Kurnool
Check Details at OU Under Colleges for BBA in Kurnool, Telangana Phone
| | | | |
| --- | --- | --- | --- |
| S. No. | BBA Colleges in Kurnool under OU university | Telangana | Phone |
| 1 | Silver Jubilee Degree College | B Camp | N.A |
Osmania University under BBA Colleges in Kompally
Check Details at OU Under Colleges for BBA in Kompally, Malkajgiri Phone
| | | | |
| --- | --- | --- | --- |
| S. No. | BBA Colleges in Kompally under OU university | Malkajgiri | Phone |
| 1 | Great India Degree College | Gundlapochampally | 081060 77422 |
| 2 | Siva Sivani Degree College | Kompally | 098489 38811 |
Osmania University under BBA Colleges in Kukatpally
Check Details at OU Under Colleges for BBA in Kukatpally, Telangana Phone
| | | | |
| --- | --- | --- | --- |
| S. No. | BBA Colleges in Kukatpally under OU university | Telangana | Phone |
| 1. | Avinash College of Commerce | Kukatpally | 99 49 22 22 44 |
| 2. | Dr. Narayana Degree College of Commerce & Sc. | Kukatpally | 9063219939 |
| 3. | Holy Mary Degree College | Kukatpally | 040 2305 7332 |
Osmania University under BBA Colleges in Secunderabad
Check Details at OU Under Colleges for BBA in Secunderabad, Telangana Phone
| | | | |
| --- | --- | --- | --- |
| S. No. | BBA Colleges in Secunderabad under OU university | Secunderabad | Phone |
| 1. | Anish Degree College | Sainikpuri | 092463 46969 |
| 2. | David Memorial Degree College | Tarnaka | 040 2701 0395 |
| 3. | Synergy Degree College | Alwal | 093901 45057 |
| 4. | Vignana Jyothi Institute of Arts and Sciences | Aswini Colony | 092480 05778 |
| 5. | Vignana Jyothi Institute of Arts and Sciences | Lakshmi Nagar | 092480 05778 |
Osmania University under BBA Colleges in Shivaji Nagar
Check Details at OU Under Colleges for BBA in Shivaji Nagar, Hyderabad Phone
| | | | |
| --- | --- | --- | --- |
| S. No. | BBA Colleges in Shivaji Nagar under OU university | Hyderabad | Phone |
| 1. | Dewan Bahadur Padma Rao Mudaliar College For Women | Shivaji Nagar | 040 2770 4683 |
| 2. | St. Mary's Centenary Degree College | Shivaji Nagar | 040 2770 2361 |
Osmania University under BBA Colleges in Somajiguda
Check Details at OU Under Colleges for BBA in Somajiguda, Hyderabad Phone
| | | | |
| --- | --- | --- | --- |
| S. No. | BBA Colleges in Somajiguda under OU university | Hyderabad | Phone |
| 1 | Roots Collegium | Somajiguda | 096765 80070 |
| 2 | Villa Marie Degree College for Women | Somajiguda | 040 2330 6302 |
Osmania University under BBA Colleges in Hyderabad
Check Details at OU Under Colleges for BBA in Hyderabad, Telangana Phone
| | | | |
| --- | --- | --- | --- |
| S. No. | BBA Colleges in Hyderabad under OU university | Telangana | Phone |
| 1. | Aurora Degree College | Chikkadpally | 040 2766 2668 |
| 2. | BharatiyaVidyabhavan Degree College, Basheerbagh, | Basheer Bagh | N.A |
| 3. | EThames Degree College | Hyderabad Central | 040 4443 2222 |
| 4. | HBS Degree College, Ameerpet | Ameerpet | 040 4141 5151 |
| 5. | Indian Institute of Management and Commerce | Khairtabad | 040 2323 1542 |
| 6. | Jagruthi Degree College | Narayanguda | 098498 21368 |
| 7. | Jahanavi Degree College | Ramgopalpet | 040 2343 3851 |
| 8. | London Management Academy – LMA Degree College | Banjara Hills | 040 4851 6195 |
| 9. | National (New Generation) Degree College, Old Lancer | Secunderabad | 040 2778 1954 |
| 10. | Omega Degree College | Habsiguda | 092468 05896 |
| 11. | Pasha New Noble Degree College, Moosarambagh | Dilsukhnagar | 040 2404 8412 |
| 12. | Pragathi Mahavidyalaya Degree College, Hanumantakdi | Koti | 040 2475 3887 |
| 13. | Saanvi Degree College for women, | Vinaynagar | 077021 28892 |
| 14. | St. Francis Xavier Degree | Barkatpura | 092463 60578 |
| 15. | St. Mary's College | Yousufguda | 040 2354 4300 |