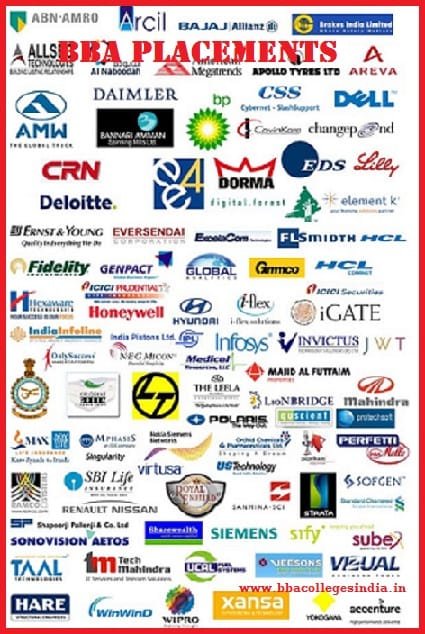 BBA course of Bachelor Degree in the Business Administration is amongst the most demanding courses that are presently opted by the Indian youth.
The course of BBA fetches an excellent format of placement prospects if it earned from a reputed or esteemed Universities Colleges and Institutes. The course in its placement prospects provides an ideal as well as decent job package to those who have under taken the course.
After BBA Placements scope in India with highest Profile package
BBA course gives complete knowledge about the corporate world and also teaches all the fundamentals of management required to face the extensive competition in the market. It is a professional degree covering huge business related management subjects giving you a competitive edge. It can also help you to become a very good entrepreneur as it develops business and entrepreneurial skills as few subjects are included in the curriculum of BBA course like Entrepreneurship and business development, Marketing Management etc.
BBA graduates can occupy management positions in the corporate world. Employers seek BBA graduates when they consider candidates for a wide range of positions in different business areas. The course of BBA has an excellent stature of placement lists as it contains some of the most outstanding companies in the Indian market.
The course also gives students the opportunity to opt for jobs in government departments like banks, railways, defense services, etc.
Below are some of the most popular job profiles offered to BBA graduates in India.
Highest Profile Package Placement Scope in India after BBA
Get Details for BBA highest Profile package in India below table.
Highest Profile Package
Placement Scope in India (LPA)
Marketing Executive Banking
Rs. 3.5 LPA
Human Resource Manager Retail
Rs. 5.9 LPA
Business Development Executive
Advertising agencies
Rs. 4.5 LPA
Field Sales Executive Finance
Rs. 4.2 LPA
job Salary After graduates in India.
| Profile | Average Salary |
| --- | --- |
| IT | Rs. 4.5 LPA |
| Real Estate | Rs. 6 LPA |
| BPO | Rs. 4.5 LPA |
| FMCG/ FMCD | Rs. 5.2 LPA |
The list includes Wipro, Tata Consultancy Services, Infosys, Hindalco, Aditya Birla Group, Reliance Insurance, Vodafone, Reliance JIO, Microsoft.
And other national as well as international companies that have earned there name in the global market.